Is Gambling Legal in Minnesota?
In 2018, the US Supreme Court relaxed certain restrictions in regards to gambling within the country. Individual states reacted in different ways and, while some forms of gambling are legal in Minnesota, there are clear rules in place regarding the practice.
Minnesota Gambling Rules
The rules relating to gambling in the state of Minnesota are governed by the Minnesota Gambling Control Board. We will go through each section in closer detail as we run through this guide but, in essence, there are some strict laws.
The only forms of gambling currently available within the state are within tribal casinos or racetracks. Certain games of skill and charitable lotteries are also allowable. The State Lottery as run by the Minnesota government has also been an acceptable form of gambling since the early 1990s.
Gambling outside of these areas, including online play, is strictly prohibited when carried out through providers who are based within the state. However, there is a way for residents of Minnesota to get online and play, Offshore operators can provide the access and this point will be discussed later on in this round up.
In short, it's a mixed picture: Most forms of gambling are outlawed here while the following are acceptable within Minnesota.
Minnesota Raffle Laws
Certain raffles can be allowed within Minnesota: However, these must be authorized and registered by the Secretary of State or the IRS.
Such raffles must be carried out on a not for profit basis with any revenue generated by the draw being ploughed back into future raffles and associated costs..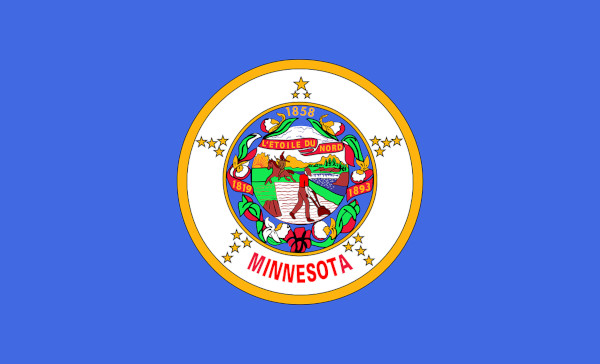 Charitable Gambling Minnesota
Official and authorized charities are able to engage in gambling. Once again, they must be registered and there can be no profits taken from the practise. Any revenue generated is to be used for future games and any essential costs.
Bingo, raffle and lottery are among the most popular options for charity organizations and there are around 1400 such operations in place as of 2021. Pull tabs, tip boards and paddlewheels are also permissible.
Indian Gambling Regulatory Act of 1988
This is one of the most important pieces of legislation relating to gambling in Minnesota. It was a necessary step and one which ruled that tribal lands within the region would be exempt from the general laws that excluded most forms of gambling at that time.
For many years, gambling has been seen as a vital source of revenue for tribal governments across the United States and there are similar acts in place across the country. As a result of the 1988 ruling within Minnesota, it was permissible for gambling on certain games to be carried out on tribal territories.
Included in that list of games are bingo, lotto, punchboards, pull tabs, tip jars and certain card games plus a host of traditional Indian games.
This is the act that effectively allows gaming, including the provision of land based casinos, on traditional Indian soil,
Minnesota Gambling Taxes FAQ
Do Minnesota Casinos Pay Taxes?
Tribal casinos based in the state of Minnesota are tax exempt. It's believed that this may be down to an oversight on behalf of the state government when agreements were initially signed. Any tribal casino that sets up here can, therefore, claim all revenue under current legislation.
In terms of state run lotteries, the revenue that is generated from these is kept by the state and used for their purposes.
Do Players Need to Pay Taxes after their Gambling Winnings in Minnesota?
The answer to this question is a simple yes: Any players who earn gambling profits in Minnesota must pay tax on those returns.
Current legislation states that any monetary profit or other type of prize is subject to federal and state taxes. Individuals must, therefore, report any winnings to the relevant authorities.
Minnesota Lawful Gambling FAQ
Is Gambling Legal in Minnesota?
Certain types of gambling are legal in Minnesota but the practise is highly regulated. At the end of 2021, licensed charitable gambling was one of the only ways in which to engage within the state.
Games that fall under the charitable umbrella will generally include paddlewheels, pull tabs, tip boards, bingo and raffles. Those games may be provided by a licensed and authorized charity and should be run on a not for profit basis.
In addition, there are those games that are available on licensed tribal lands as authorized by the Indian Gambling Regulatory Act of 1988. The options run by charities will often be made available by Indian tribes too, while card games and traditional Indian games are also likely to be found on these tribal territories.
In addition, there is the option to stake pari mutuel bets on horse racing. The legislation relating to this was passed in 1982 and made law in 1983. Two years later in 1985, the state's first race track was opened at Canterbury Downs near Shakopee.
The other option for residents here is the Minnesota State Lottery. Following a referendum to amend the state's constitution, the official lotto was passed and plans to set it up were ratified in 1988.
An instant scratch card became Minnesota's first version of the lottery and, since that point, further games and draws have been put in place.
Is Sports Betting Legal in Minnesota?
Sports betting is currently illegal within the state of Minnesota. It is not permissible for any operator to set up business here to provide sports betting services, either online or offline.
There are no sports betting halls as yet and no online websites originating from the state. The only exception can be found in those offshore sites that are happy to take on Minnesota residents.
Pari Mutuel betting is also allowed on horse racing but, overall, there are severe restrictions in place.
Is Online Gambling Legal in Minnesota?
It is not legal for a gambling operator to open within Minnesota and offer online services. There are no signs that this will change anytime soon despite other states relaxing their own laws.
As of 2021, no gambling operator can open up digitally but there is an anomaly where residents can get online.
Is Offshore Online Gambling Legal in Minnesota?
This is the one area where players in Minnesota can access online gambling platforms. If the operator is based outside of the United States, then they can open up their virtual doors to customers in Minnesota, subject to regulation and their own terms and conditions.
If residents meet the individual criteria, certain casino operators or betting sites will allow them to register and play.
When will Sports Betting be Legal in Minnesota?
There are no certain answers to this question but we do know that the earliest point in time for legislation to move forward is January 31st, 2022. This is the time when the state government will carry out its next session.
The potential legalisation of sports betting within the state is likely to be on the table although there is no guarantee that it will be passed.
What is the Legal Gambling Age in Minnesota?
Anyone who wants to engage in any of the legal forms of gambling within Minnesota must have reached the age of 18. It's almost certain that identification will be required at authorized casinos and other establishments in order to prove this point.
Is there Riverboat Gambling in Minnesota?
As of 2021 there are no riverboat casinos in the state of Minnesota. This is interesting because the state is located on the banks of the Mississippi river where a number of floating casinos can be found in other regions of the country.
However, none of those riverboat casinos are physically located in Minnesota.
Minnesota Gambling Control Board
The Minnesota Gambling Control Board is in place to regulate the types of gambling that are currently accepted in the state. Under their official website, the organization lists five forms of gambling that are allowed here and it goes into detail about the restrictions that are placed on them.
Their role is multifaceted and, in the initial stages, it is there to regulate those practises that are allowed here. The board can license and regulate those charitable organizations that are looking to set up gambling options within Minnesota. Guidance on what is expected from those organizations can also be found on the board's website.
In addition, the Minnesota Gambling Control Board is there to stamp out any illegal gambling operations that have been set up outside of its jurisdiction. Essentially, this is the place to discover all of the rules and regulations that apply to gambling within Minnesota.
Conclusion
Like a number of states across the US, there is a very mixed and fluid gambling scene in Minnesota. The region is stricter than many in the sense that most forms of betting and casino play are outlawed.
The exceptions to the general rules also reflect much of what we see around America. The State run lottery was first held in 1990 and revenue from this is used to fund essential services in Minnesota.
The Indian tribes are another exception and this is where residents and tourists can play at land based casinos. The vast majority of regular card games can be found in these locations and the casinos can operate freely after authorisation and set up.
Charitable organizations can also offer gambling services subject to approval by the Minnesota Gambling Control Board. Here, there are five main games that can be offered to customers:
Bingo
Paddlewheels
Pull Tabs
Tip Boards
Raffles
All of these charitable games must be run on a not for profit basis.
The major restrictions currently apply to sports betting which is, in the main, outlawed right across the state. The only exception within Minnesota applies to Pari Mutuel betting on horse racing but there hasn't been great interest in this practise.
However, there are exceptions to the rule while residents can still access gambling via offshore services. As long as those operators are based outside of the United States and are happy to take on customers from within Minnesota, they are able to do so, subject to their age restrictions and any other terms and conditions.
As for the future, there is a possibility of relaxing laws relating to sports betting in January 2022. There is no certainty around this, however, and it's very much a case of 'watching this space' as things have the potential to change in the future.